My signature's hamburger for The Roster
Cette semaine, vous retrouverez à la carte du
Roster
le burger que je leur ai créé. J'adore les collaborations culinaires d'autant plus que le Roster et moi, c'est une chouette histoire d'amitié. Cela me tenait à cœur préparer un Lunatics, si bien que je suis revenue à la charge plusieurs fois après en avoir discuté il y a 2 ans. Les boss avaient la corde au cou, et oui quand j'aime, on ne se débarrasse pas de moi aussi facilement.
A created a signature's burger that you'll find at the Roster this week. I love culinary colaboration, especially that it's a great friendship story between The Roster and I. I was so excited about this idea that I came back to them a couple times after we talked about this project about 2 years ago. The owners couldn't turn back and give up, yeah, you can't easily get rid of me when I love something.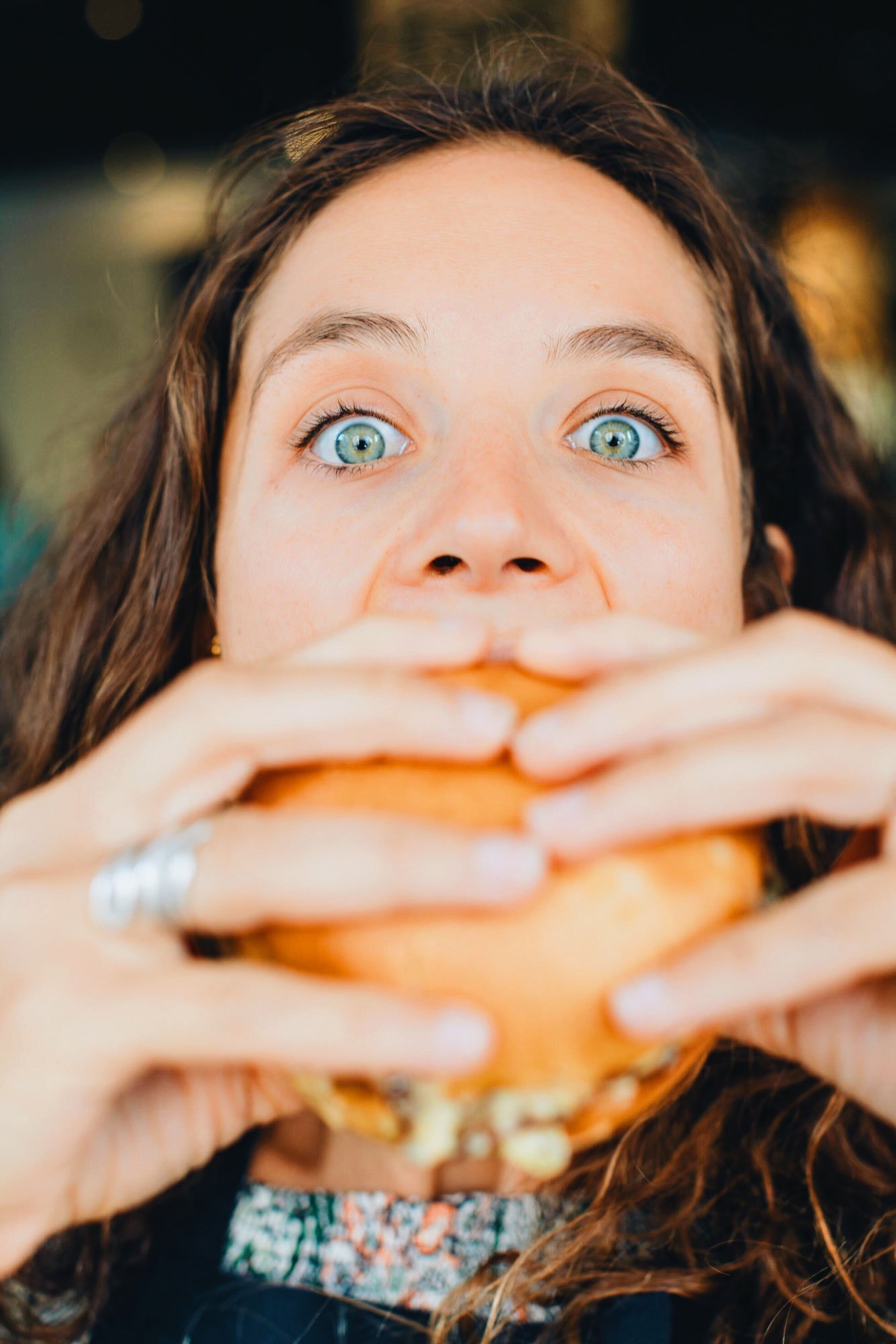 Hugo et Ben, les propriétaires, sont deux anciens snowboarders et cela va faire bientôt 10 ans qu'on se connaît. Il y a 4 ans, quand Hugo m'a annoncé qu'il était sur le projet d'un restau de burgers, je savais qu'il cartonnerait ! C'est un dingue de cuisine, et, malgré un passé de rockstar tumultueux (je ne parle pas de son époque gothique avec son Kohl noir sous les yeux), la cuisine est toujours restée une passion.
A cette époque, je commençais aussi mon projet d'exposition
Ride The Wall
. Lui dans la bouffe, moi dans l'art et il faut croire que la cuisine est plus rentable que la culture puisqu'aujourd'hui, c'est moi qui ai rejoint les bancs culinaires… J'ai troqué crayons contre toque et j'en suis bien plus épanouie.
The owners, Hugo and Ben, are to ex snowboarders and we've know each other for about 10 years. 4 years ago, when Hugo told me about his Burger restaurant project, I knew he would kill it! He's a cooking maniac, and, besides his tumultuous rock star history (I am not talking here about his gothic-chaotic style when we was a teen with his Kohl underneath his eyes :D), food has always stayed a true passion.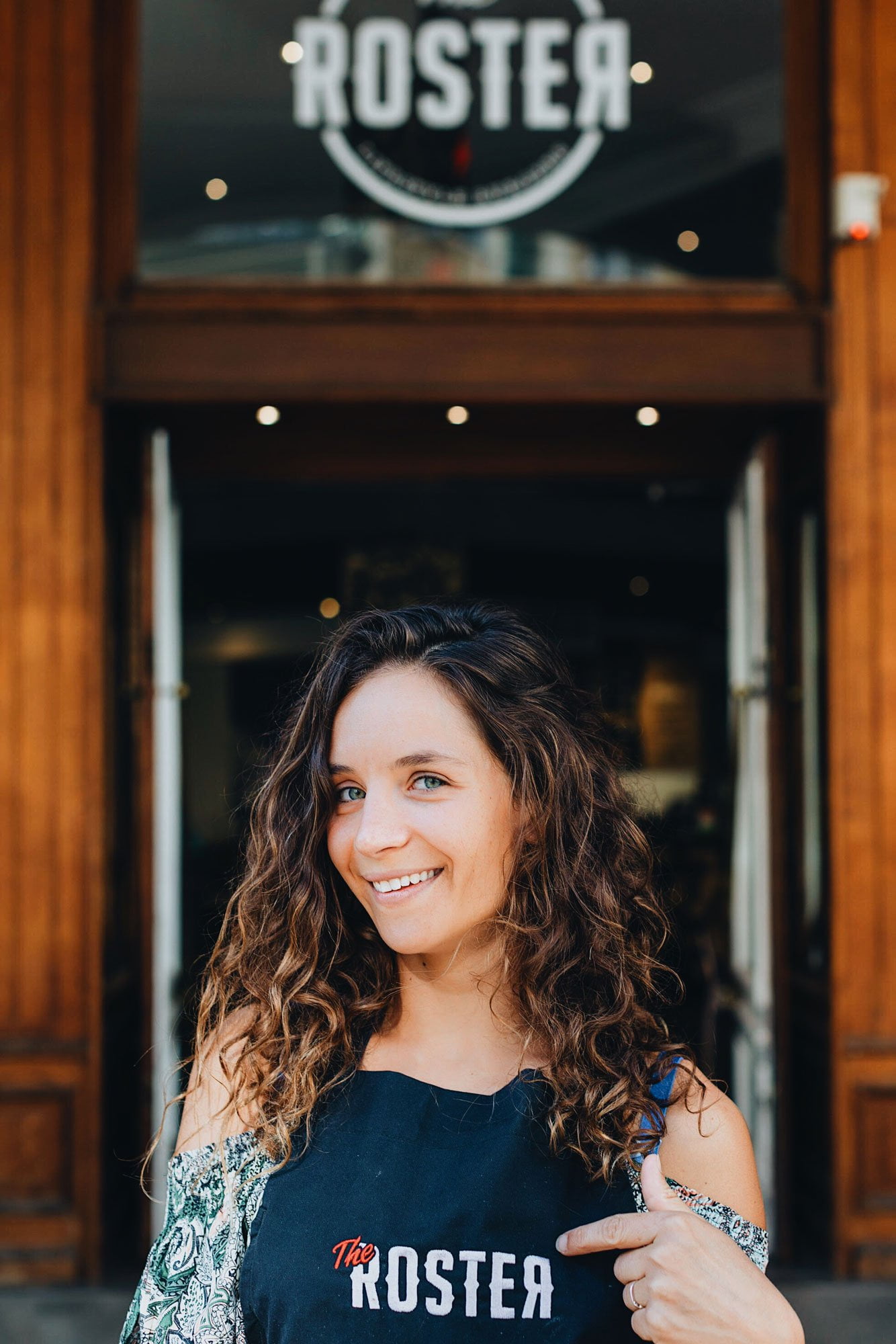 Pour en revenir à ce hamburger, j'avais carte blanche. Autant vous dire qu'avoir le choix c'est bien mais cela peut être fatal si tu mélanges trop de saveurs. Je voulais quelque chose de gourmand avec des produits de saison. Quitte à faire un burger, autant jouer le côté junkfood à fond.
J'étais partie sur une base à la purée de carotte & cacao et après quelques essais je me suis rendu compte que ça n'était pas l'histoire que je voulais vous raconter:
Je voulais une création qui vienne du cœur, quelque chose de personnel et c'est comme ça que le Californien est né !
"Chutney rose infusé à la framboise et graines de cavi, avocat, bacon, cheddar, sauce ranch et raifort déshydraté minute. "
Ce burger est un hommage à la culture surf californienne, là où j'ai passé une majeure partie de l'année 2016. Une année bourrée de souvenirs, de rebondissements et un tournant à 180° dans ma vie pro et perso.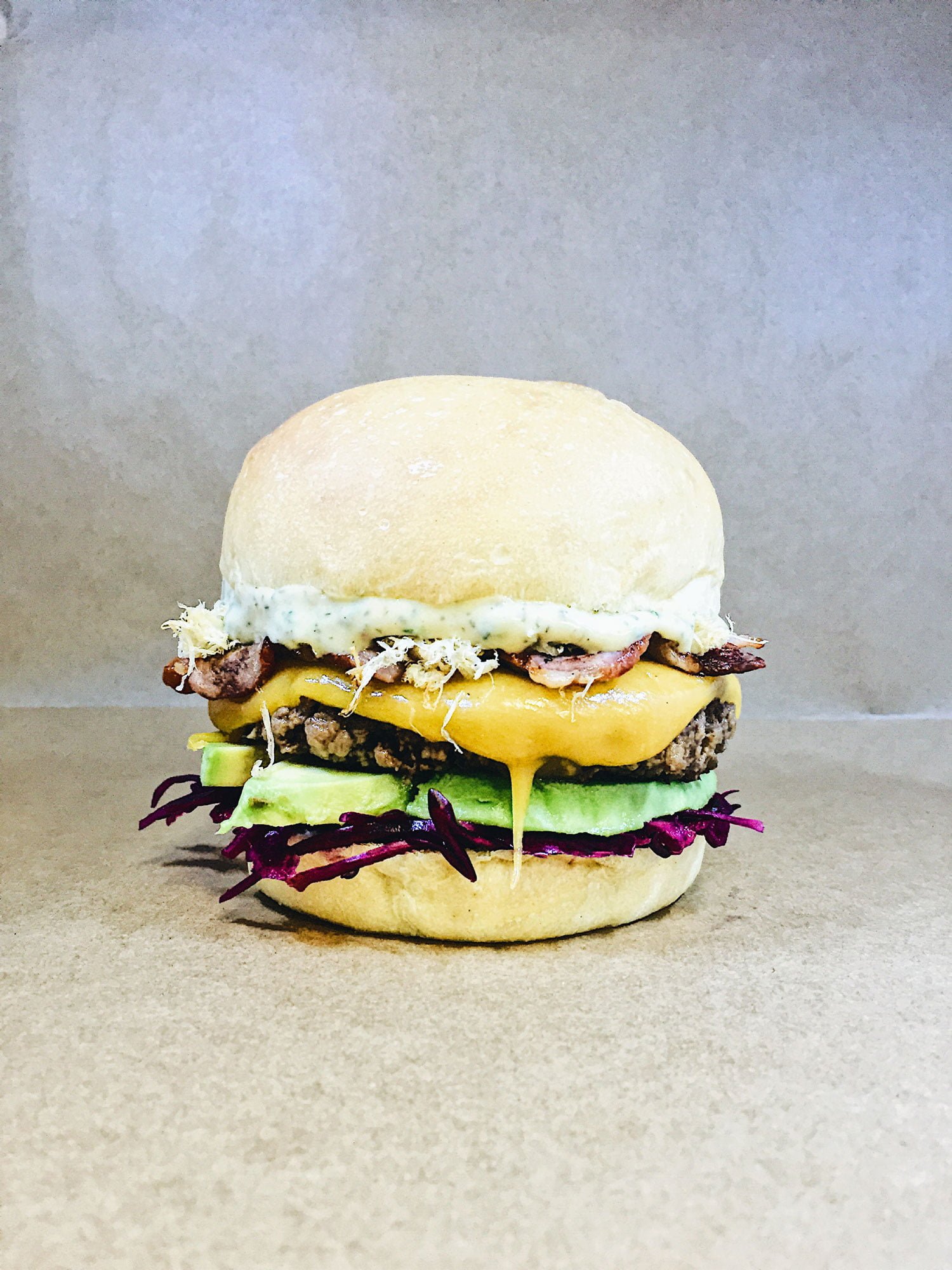 I had free rein for this hamburger and let me tell you that's it's a tricky thing. It's good to have the choice but it can be a disaster if you combine to many flavours. I wanted something yummy with seasonal ingredients.
I went for a roasted carrot purée & cocoa and I realised after a few tries that it wasn't the story I wanted to spell you.
My aim was to share with you something personal, something from my heart and that's how the Californian burger appeared!
"Raspberry pink chutney infused, avocado, cheddar, bacon, ranch sauce and homemade dehydrated horseradish"
This burger is a tribute to the Californian surfing culture, where I spent a couple of months in 2016. A year full of memories, surprises and such a turning point in my professional & personal life.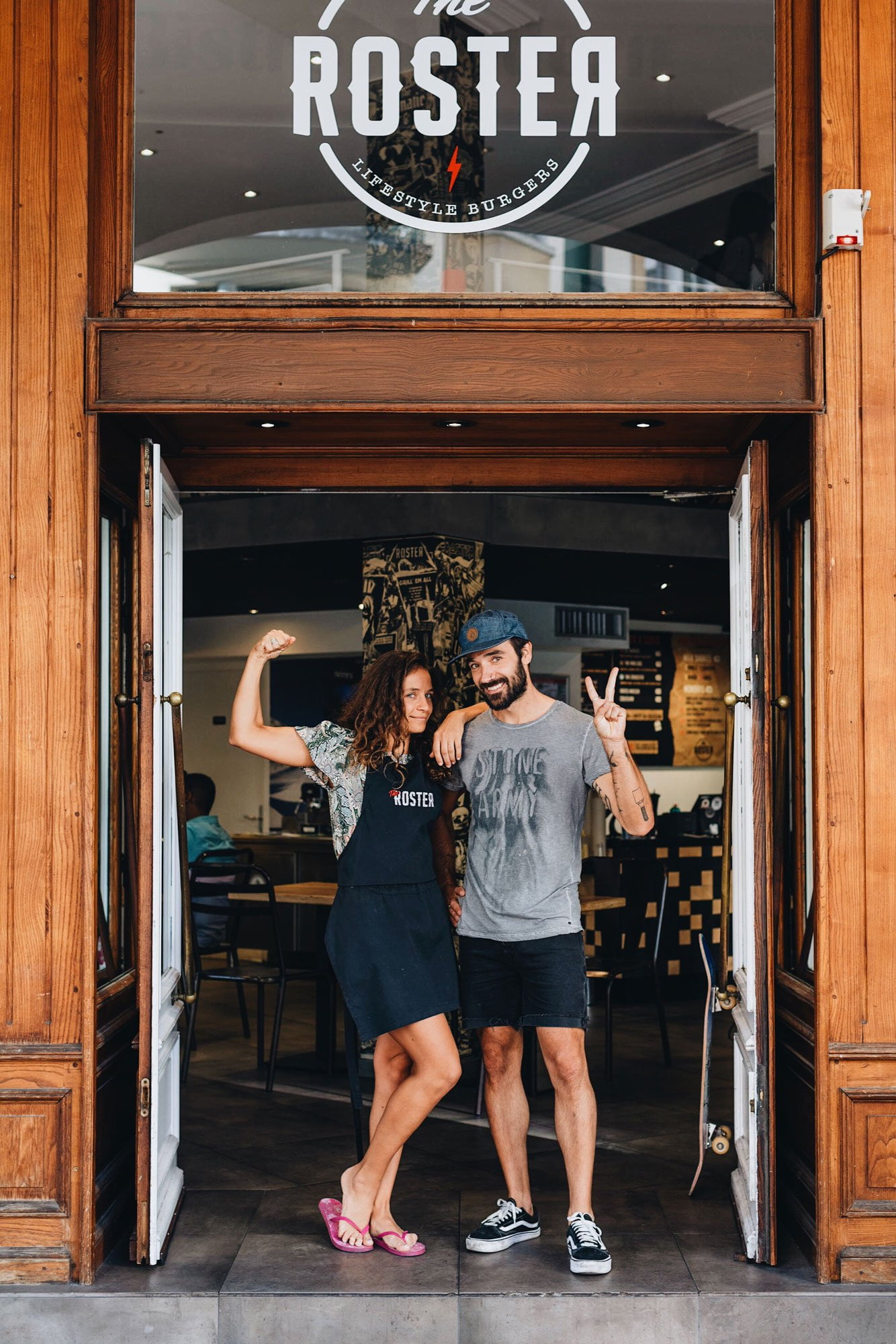 Le pink chutney façon coleslaw healthy, l'avocat et la sauce ranch, étaient l'équilibre parfait pour rendre hommage à l'image culinaire californienne. Le raifort, c'est le wasabi de la préparation comme le sushi Californien et pour le bacon et le cheddar, plus ricain que ça, tu meurs !
J'en parle à Alex, le magicien gustatif du Roster. L'idée lui parle et il me propose de faire les préparations de son côté pour l'essai final. Et quel résultat ! Il a su reprendre mes idées à sa sauce en rajoutant du vinaigre de framboise et des graines de carvi dans le chutney, c'était exactement ce qu'il fallait !
Il nous manquait plus que le raifort, un des ingrédients clefs. C'est extrêmement délicat à travailler puisque c'est hyyyyper fort ! Comment garder son goût sans ruiner le hamburger ? Il perdrait tout son punch si on le mettait directement dans la sauce ranch alors on le frit, on le râpe… Mhh, on n'est pas convaincu. Et là, Hugo propose de le sécher au four. 10 minutes plus tard, on goûte et c'est immédiat ! Notre raifort, on l'a, et c'est juste une tuerie !
Je décide de monter le burger en faisant attention aux associations de couleurs, c'est un point essentiel dans ma cuisine. Le rose, le vert incroyable de l'avocat, l'orangé du cheddar… Ce burger est vif et coloré, à l'image de ma cuisine. Ça me plait !
The pink chutney coleslaw style, the avocado and the ranch sauce were the perfect balance as a tribute to the californien culinary image. The horseradish is the burger's wasabi as it is for the Californian roll. The cheddar and the bacon, there was no way I couldn't add them. They are sooooo popular in the US.
I talk to Alex, the gustatory wizard of the Roster. He likes this idea and offers to cook all the preparations for the final test. What a result! He knew how to interpret my ideas with his skills and point of view by adding raspberry vinegar and caraway seeds in the chutney. That was exactly what needed!
The only thing that was missing was the horseradish. It is a powerful ingredient so how to keep its taste without ruining the hamburger? He would totally loose is punch if we had it directly into the ranch sauce, so we fried it, we shredded it… mhhhh still not convinced. And then, Hugo suggests to dry it in the oven. 10 minutes later, we taste it and it's instant! We got it, and it's crazy!
I decide to assemble the hamburger by paying attention to the colours, it is a main point in my cooking. Pink, green, orange… This hamburger is bright and colourful, I like it!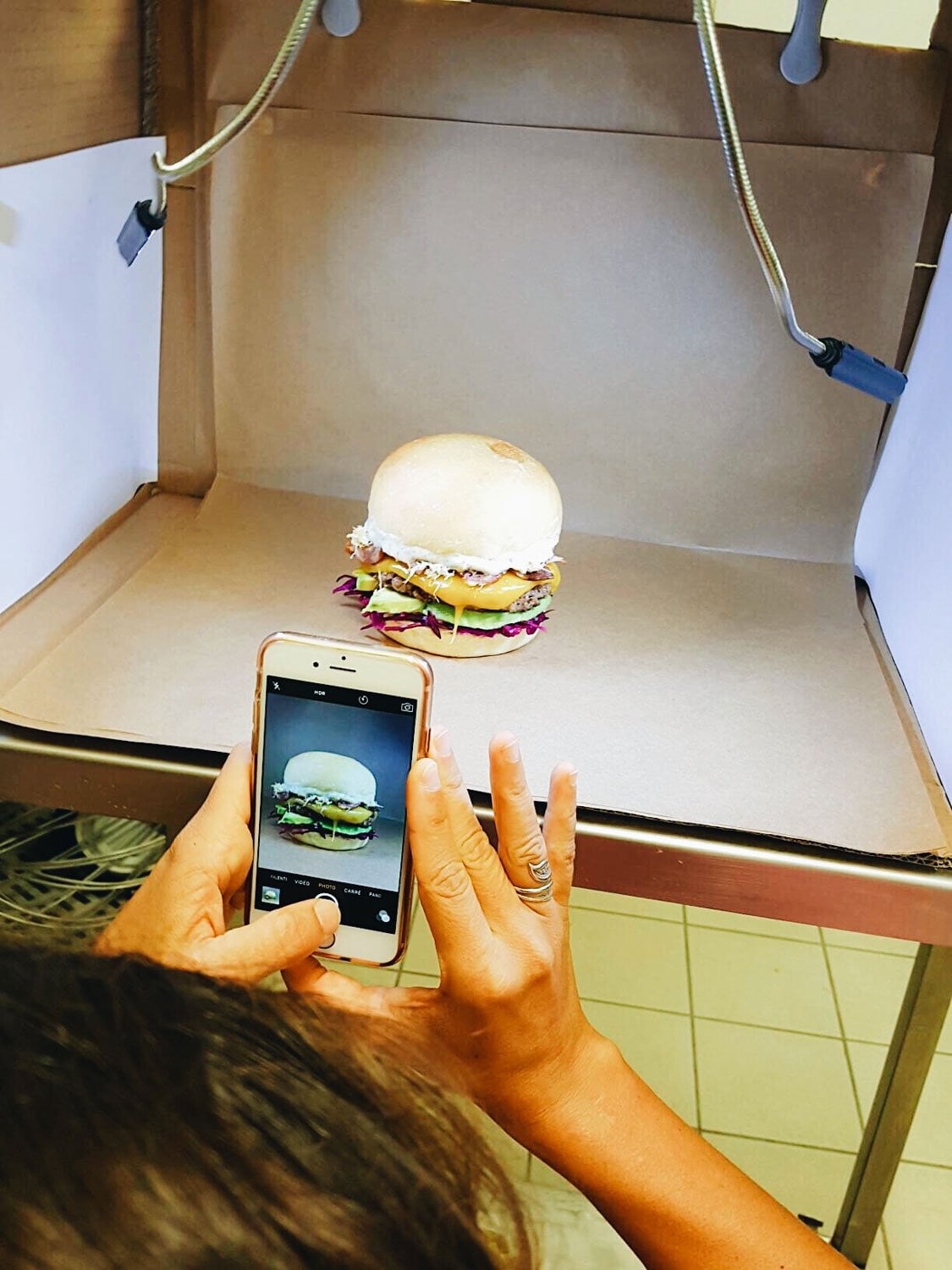 En somme, ce burger est une superbe collaboration où chacun a su magnifier ma volonté de base en apportant ses idées. Et je ne suis pas peu fière du résultat puisque gustativement parlant, il est à tomber. Enfin ça n'est pas moi qui le dis mais la team du Roster 🙂 Du gras, du croquant, de la douceur. En une bouchée, on s'envole en Californie pour aller surfer les vagues les plus douces qu'il soit !
Merci au magnifique Julien Petry pour les photos!
J'espère qu'à vous aussi, ce plat vous racontera une histoire. Vous avez jusqu'à dimanche pour le découvrir! En attendant, je vous souhaite une toute belle journée.
This burger is a beautiful collaboration in which each one of us magnified the original suggestion by adding our ideas. And I am not quite proud about the final result, it's delicious. I am not saying that but the Roster's team when we tasted it 🙂 A bit of fat, some crunchness and some mildness. You flight straight to California with one bite.
Thank you Julien Petry for the pictures!
I hope you'll enjoy it too and that you'll get the story I wanted to tell you by eating this hamburger. You have till next Sunday to give it a try.
I wish you a beautiful day!
Je vous embrasse,
Anouck