How to make vegan cheese ?
After the
article about my thoughts about vegan cheese
, I wanted to give you my vegan cheese recipe. I don't need to say more about it as you all have read my last article, let me just tell you that I totally loved it tastes and texture.
This recipe needs to sit for 3 to 7 days but it will surely not take you a long preparation. Count about 40 minutes on day one and day two, then, only 10 minutes to change the cheesecloth.
Enjoy and let's spread the word of « fermented cashew spread » 🙂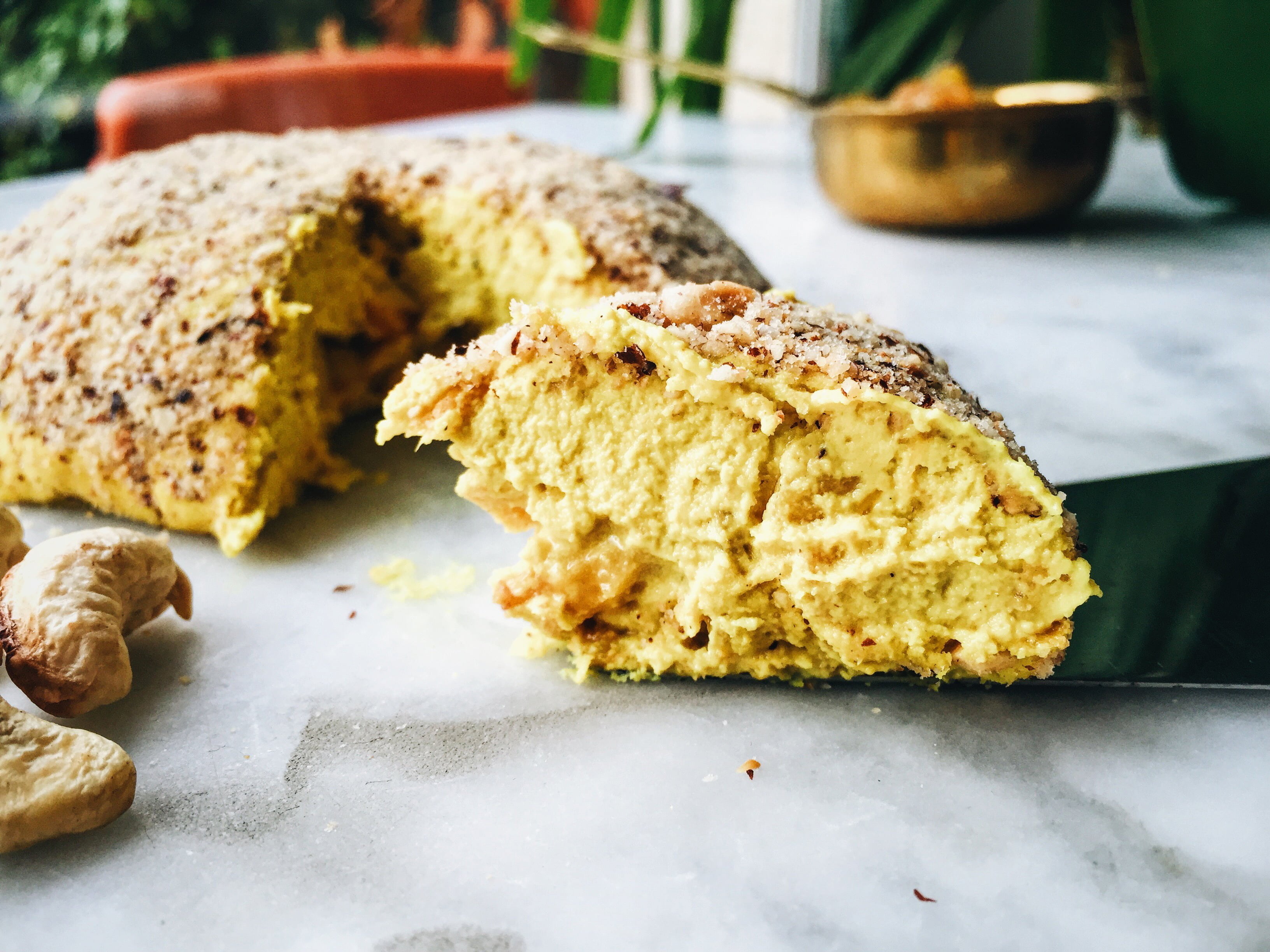 Ingredients:
300 grams of cashew nuts, soaked overnight
2 tsp of probiotics (you can find them in organic stores)
1 lemon
Cheesecloths (about 5-6 packs)
Indian style
1,5 tsp turmeric
1/2 tsp curry powder
1 tsp yeast
1/4 tsp cumin
pinch of salt
Old fashioned
2 tbsp golden grapes
1,5 tsp yeast
1/2 garlic clove (squeezed)
pinch of salt & pepper
Sweet and sour
2 tbsp thinly sliced dry apple
2 tsp yeast
1/2 tsp turmeric
2 slices of ginger (squeezed with a garlic squeezer)
2 tbsp of almonds or hazelnuts powder
pinch of salt & pepper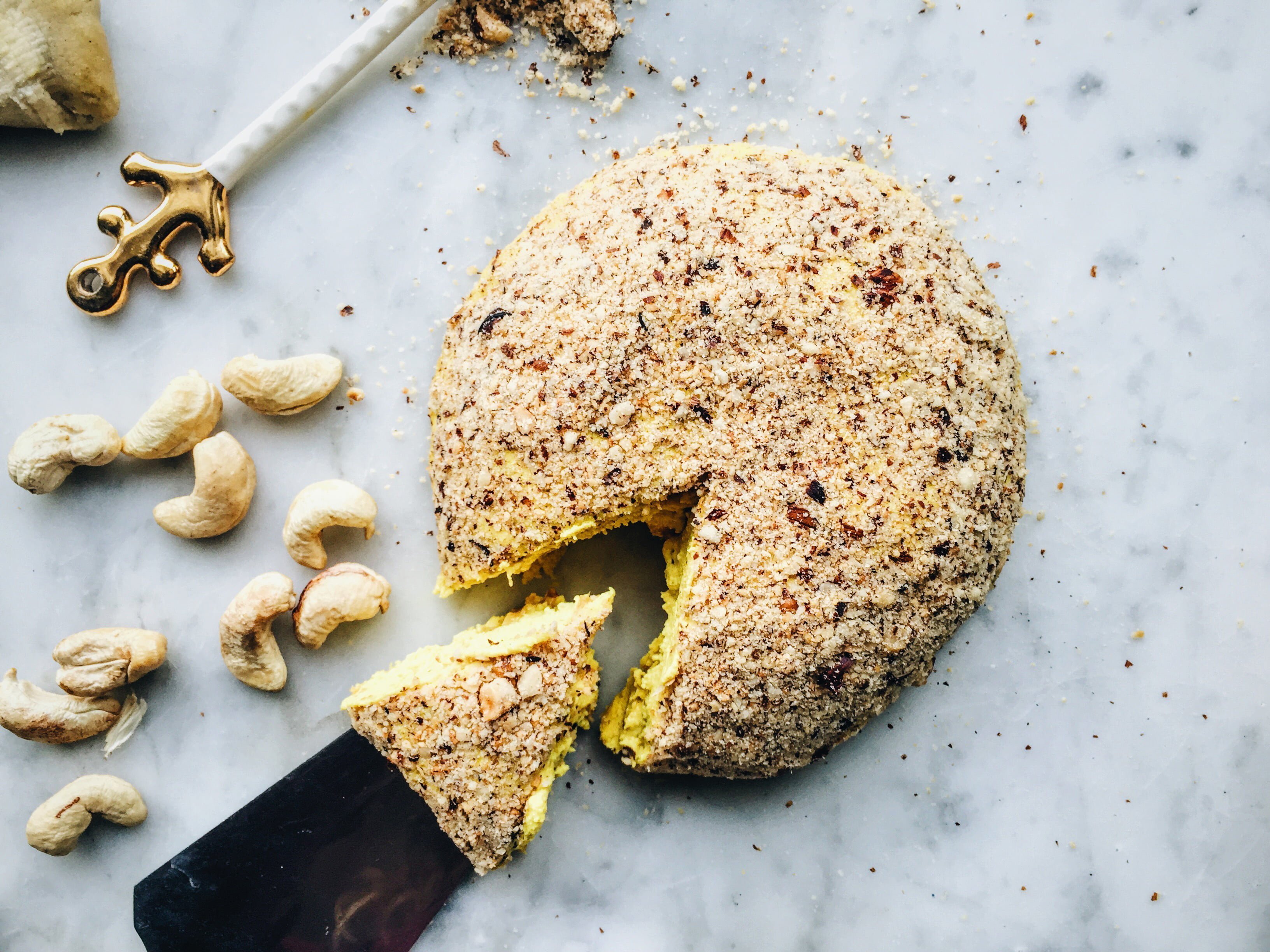 Directions
If my directions are not specific enough, you will find a good description with pictures
here
1. Day one: Blend the soaked cashews until really smooth (for about 3 minutes), add a pinch of salt and the juice of a lemon. Add some water if needed, you want your paste to be liquid but not too much. Finish with the probiotics. Mix everything again then poor everything in a large bowl.
2. This step is the beginning of the fermentation process. Fermentations develop better in warmer areas: it will takes you a full day in the summer time and a day + a night in the wintertime.
If it's summer time, leave the bowl under the shadow outside where it's warm. If it's wintertime, leave it somewhere it's room temperature. For a faster result, I left my bowl in the oven for 4 hours at 100 F – 40 C, turned the oven off and left the bowl till the next morning.
3. Day two: You mix must be fermented by now, you will notice it by the little bubbles in the cashews preparation and the swollen shape. Split the preparation in 3 and add the ingredients of each types of cheese in each preparations. If you want, add the bit more of lemon juice & salt in them.
4. Take your molds (I used my regular bowls for a spherical shape) then add the cheesecloth at the bottom of each one of them. You must lined the cheesecloth the 3 first days (at least) because it will suck the water out of the cheese.
5. Poor each preparations in each bowl. Cover them with the cheesecloth.
6. Leave the cheeses in the fridge and change the cloth every day. It will be a little bit delicate to change the 2 first days because your cheese will still be soft, just be gentle 🙂
7. You can keep the cheese for a week, or more, it all depend on how you like it. I ate the Indian one after 3 days and it tasted great, I served the sweet and sour after a week and a half at a dinner with my friends, it was thicker, tasted stronger and delicious.
8. Enjoy and have a lovely evening