3 cheeses & red cabbage pink risotto
You sometimes don't need much to come up with a perfect recipe, just a good combination of old forgotten vegetables in the fridge and you're in! The other day, I got back from trip and found an empty fridge at home. It was late and I though about getting a pizza or so until a small red cabbage showed up.
Wait a minute… Red cabbage + A few pieces of old good cheeses…. = What about cooking an absolutely lovely pink risotto tonight? That's how this red cabbage risotto came up!
Risotto is an easy and classic Italian meal that can be cooked with pretty much anything. Back in the days, Risotto even used to be the dish of the poor in winch they would throw their left overs.
I loved this recipe; the colour, the soft texture and the mildness of the cabbage contrasted with the 3 strong cheeses was just amazing. Just have a look at the picture and you senses will speak by themselves 😉 And when you see this, next time, please take an extra minute standing in front of your fridge before saying you don't have anything to eat.
I believe that a good cook is someone who's able to do something great out of nothing, and we all can be that person 🙂
Bon appétit my friends.
Vegan tip
>>> This recipe can be vegan if you switch the cheese with a vegan cream or vegan cheese.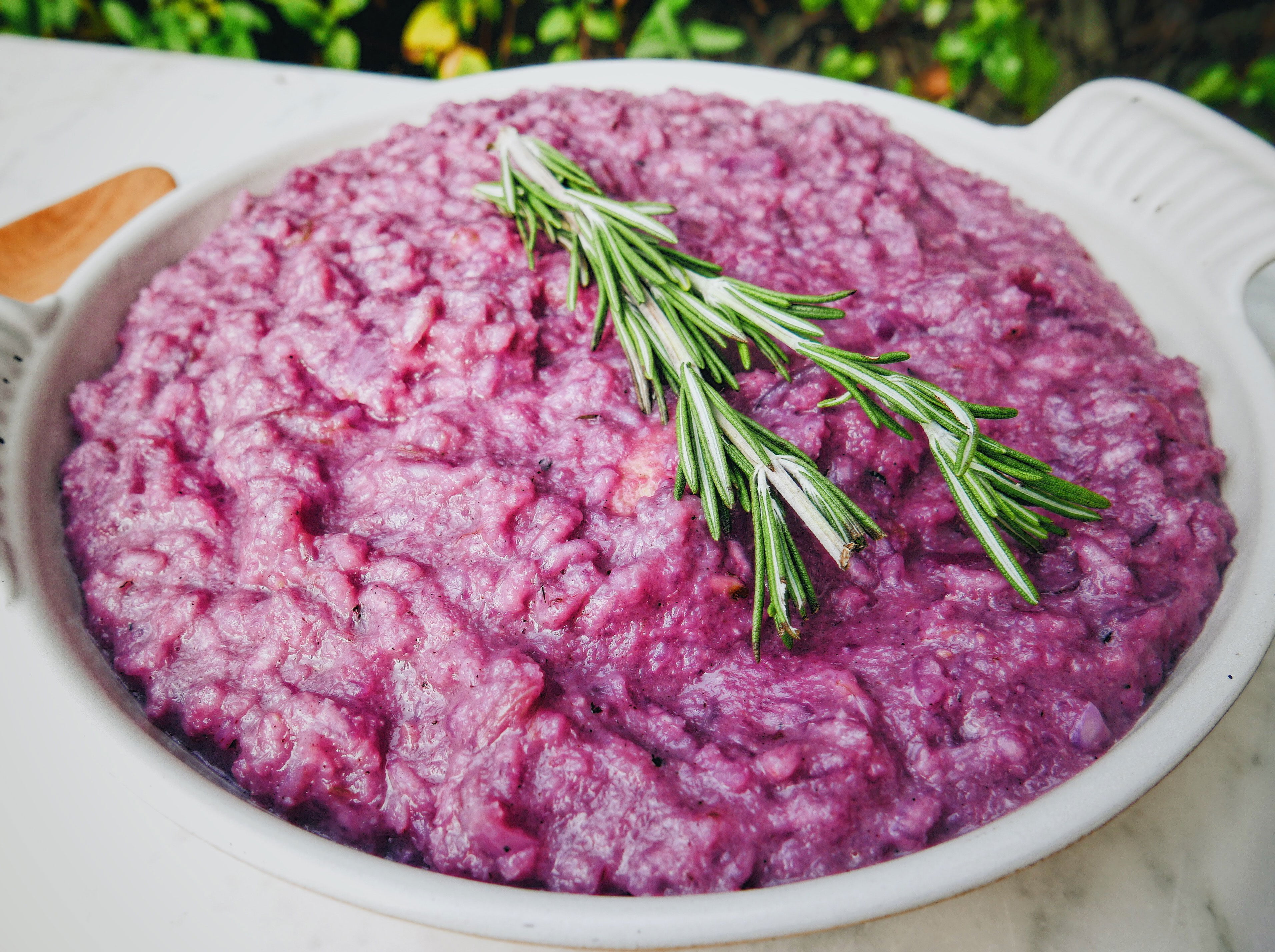 Ingredients
11,4 Oz – 325 gr red cabbage (heavily chopped – like a paste – with a food processor)
1 yellow beet optional (heavily chopped – like a paste – with a food processor)
2 onions
3 garlic cloves
vegetable broth (about 1,5 liter)
300 gr risotto rice
white wine to deglaze
1 hand gouda cheese
1 hand emmental cheese
1 hand ship Spanish cheese
Fresh Rosemary
salt & pepper
Olive oil
Directions
1. Warm but the vegetable broth with the Rosemary.
2. In a large pot, on a high heat, add the olive oil, the onion and the chopped garlic cloves
3. When transparent (after 15 minutes), add the rice. Mix for about 3-5 minutes (still on the high heat) and deglaze with the wine.
4. Add the beet and the red cadge paste and 3 ladle of vegetable broth
5. Start stirring slowly and never stop. Add water when needed (you'll probably need 4 or 5 refills during the process). You risotto will be ready when the rice will get tender. Approx. 20-25 minutes!
Tips
>>> 1. For a better vegetable broth, if you have extra carrots, celery, onion (or whatever you like) add them during the first step to bring a stronger taste)
2. You don't need to add the exact same cheeses as me, just throw what you have in your fridge. A good old sharp cheddar would also taste great with 🙂
Hope you will love it as mush as we did here 😀
Anouck