Pâte à tarte vegan aux pois chiches et amandes
Preparation: 5 minutes
Cooking time: 20 minutes
$$ – Easy
Some of my friends have been asking me a french version of « A la French food » and after considering this option, I decided to go for it. It won't be a proper translation, I have always been a bad student and I want is to write what I have in mind. So for the people who speaks french:
« Bienvenus dans mon petit univers, toutes ces recettes sortent tout droit de mon imagination, sauf si je mentionne le contraire, et j'espère qu'elles vous plairont. Je suis une dingue de cuisine et pour moi, tout est excuse faire à manger. N'hésitez pas à laisser vos commentaires ou interrogations, ça me fera super plaisir d'y répondre »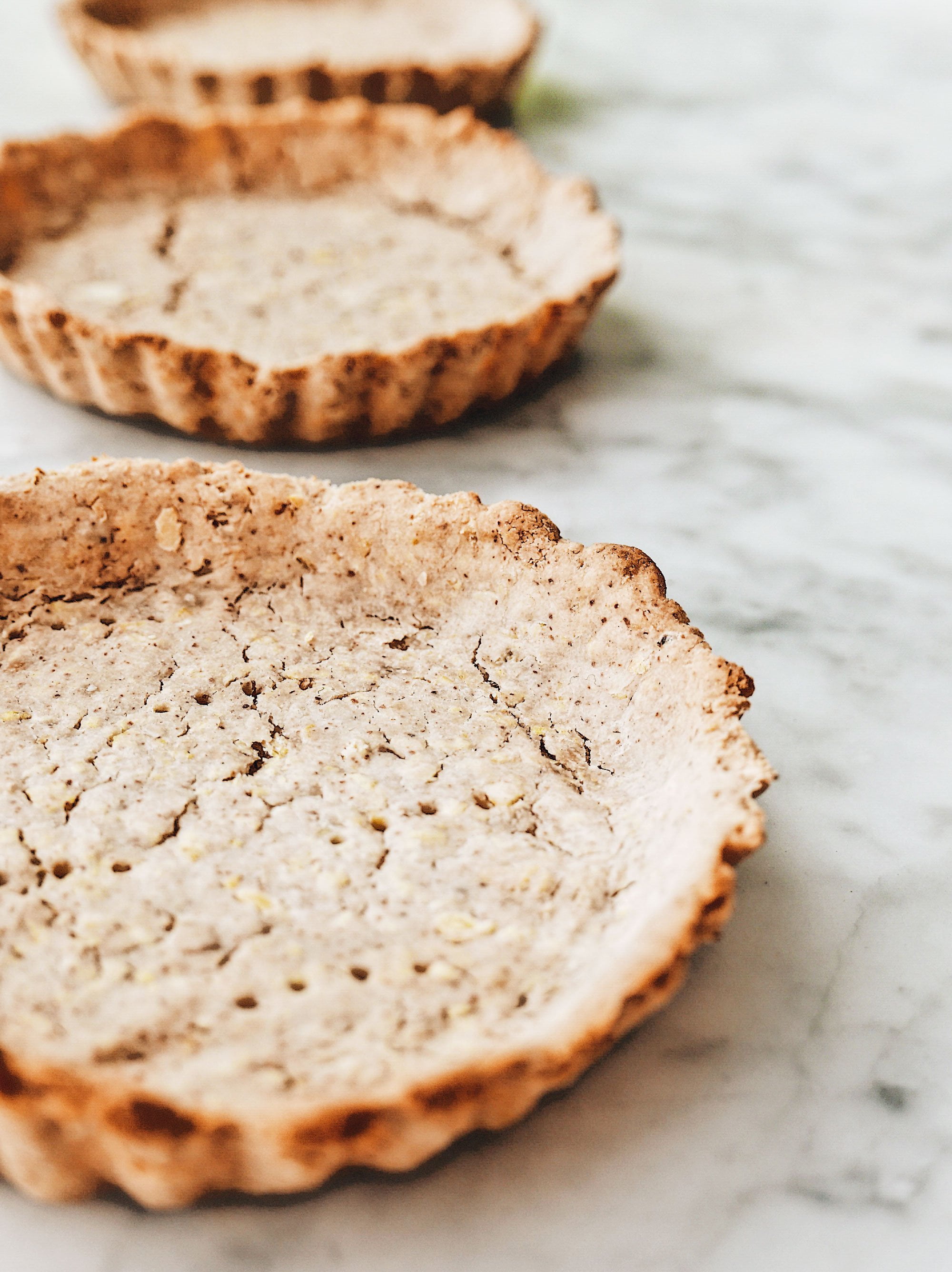 La traduction française n'aura sûrement rien à voir avec la version anglaise, un blog c'est fait pour dire les choses comme elles viennent et je n'avais pas envie de me cantonner à une traduction littérale. Parfois, certains des paragraphes se complèterons et raconterons une histoire, parfois pas. Mais pour cette première recette, on va y aller tranquille.
Ces tartes seront servies comme entrée froide avec une crème de carotte vegan, il me fallait une pâte pleine de saveurs pour compléter la douceur de la carotte, et suffisamment solide. Après quelques expérimentations (parfois hasardeuse), j'ai trouvé la pépite grâce au blog de
Dame Bio
. Cette pâte est moelleuse et gourmande, difficile d'imaginer que sans oeuf, ni beurre on peut arriver à un tel résultat.
Et puis il y a le pois-chiche, c'est LA solution pour enlever le gluten à vos préparations tout en gardant la bonne consistance. Je parie même que ca sera le prochain aliment phare de Pinterest et Instagram et que, comme l'avocat, on ne pourrez plus vous en passer. C'est déjà mon cas, et j'ai hâte de vous montrer tout ce qu'on peut faire avec.
Bref, cette recette est un killer qui vous fera déculpabiliser de manger une tarte, alors foncez!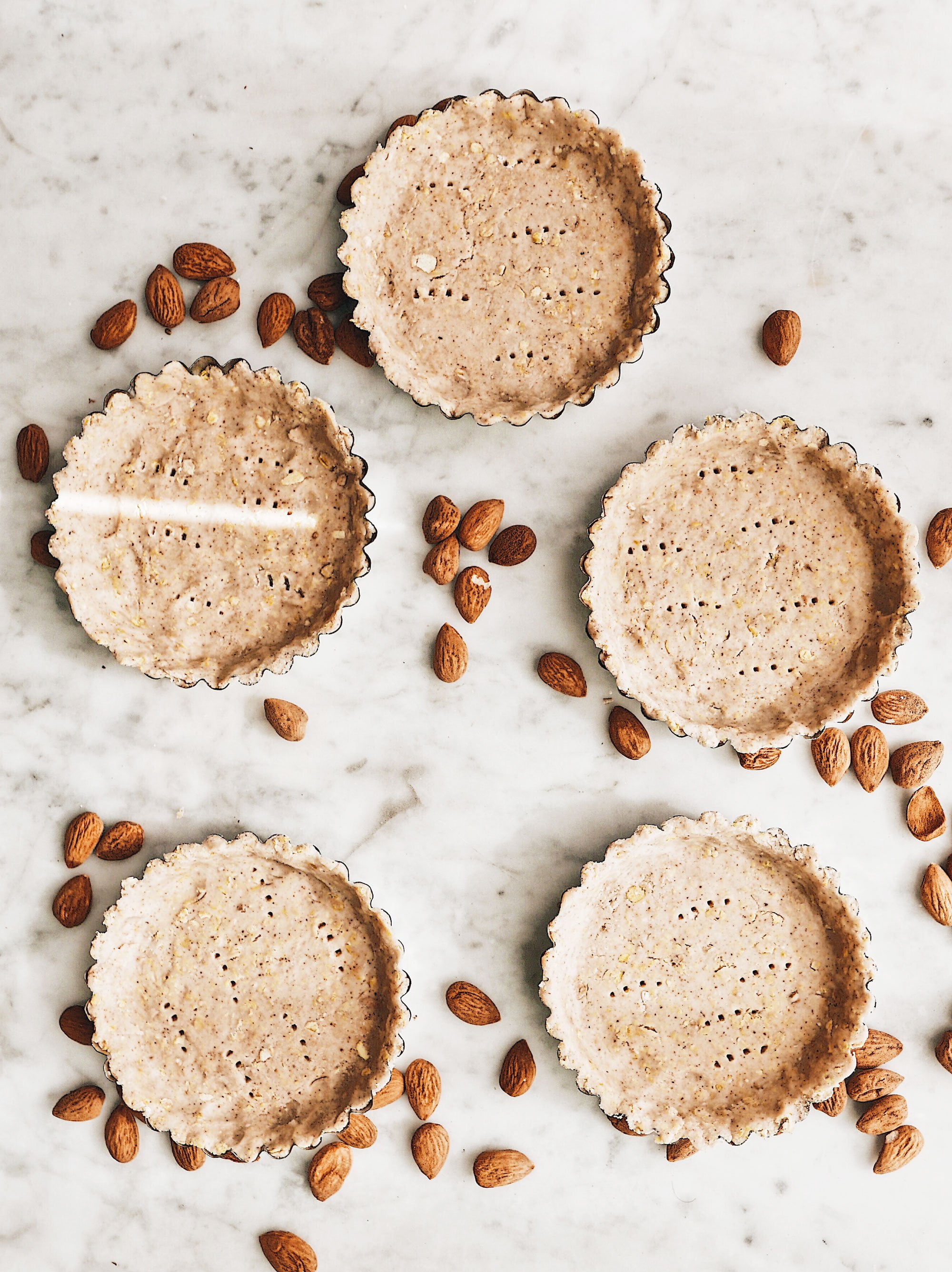 Ingredients
120 gr. rice flour
60 gr. chickpea flakes
60 gr. cornstarch
90 gr. almond butter
15 dl. boiling water
1/4 tbs salt
Directions
1. Preheat the oven at 180°C
2. add all the ingredients in a food processor and mix for a bout 30 sec up to one minute. Stop as soon as the dough form a ball.
3. Spread the dough in the mould and prick it with a fork. Add the dry peas on top of the dough and cook in the over for about 20 minutes.
4. Remove from the oven and let the crust cool down before adding your filling.
>> The dry peas added on top of your dough will prevent from swelling when cooking.