Pumpkin & hazelnut tulips Cannelloni
I always find an excuse to make homemade pasta so yesterday I did those pumpkin/butternut & hazelnut tulips cannellonis. I have been away from home the past week so as soon as I got back, I spent the afternoon in the kitchen cooking something, I hope :), delicious.
I have tons of things to say about pasta that I decided to share it with you in the next couple of days otherwise it would be to long here. I will explain you my experience in making pasta from the very first time till I got better at it. So stay tuned for some good tips 🙂
Coming back to today's recipe, the filling is very simple BUT effective! Pumpkin & butternut with ground roasted hazelnut in order to give a sweeter and stronger taste. I also decided to keep the entire cannelloni to make this « tulips » effect in the plate. If you want your plate to look more « conventional », cut the top part of the pasta.
Hope you guys will like it!
>> if you don't want/have time to make your own pasta, you can use pre-made lasagna.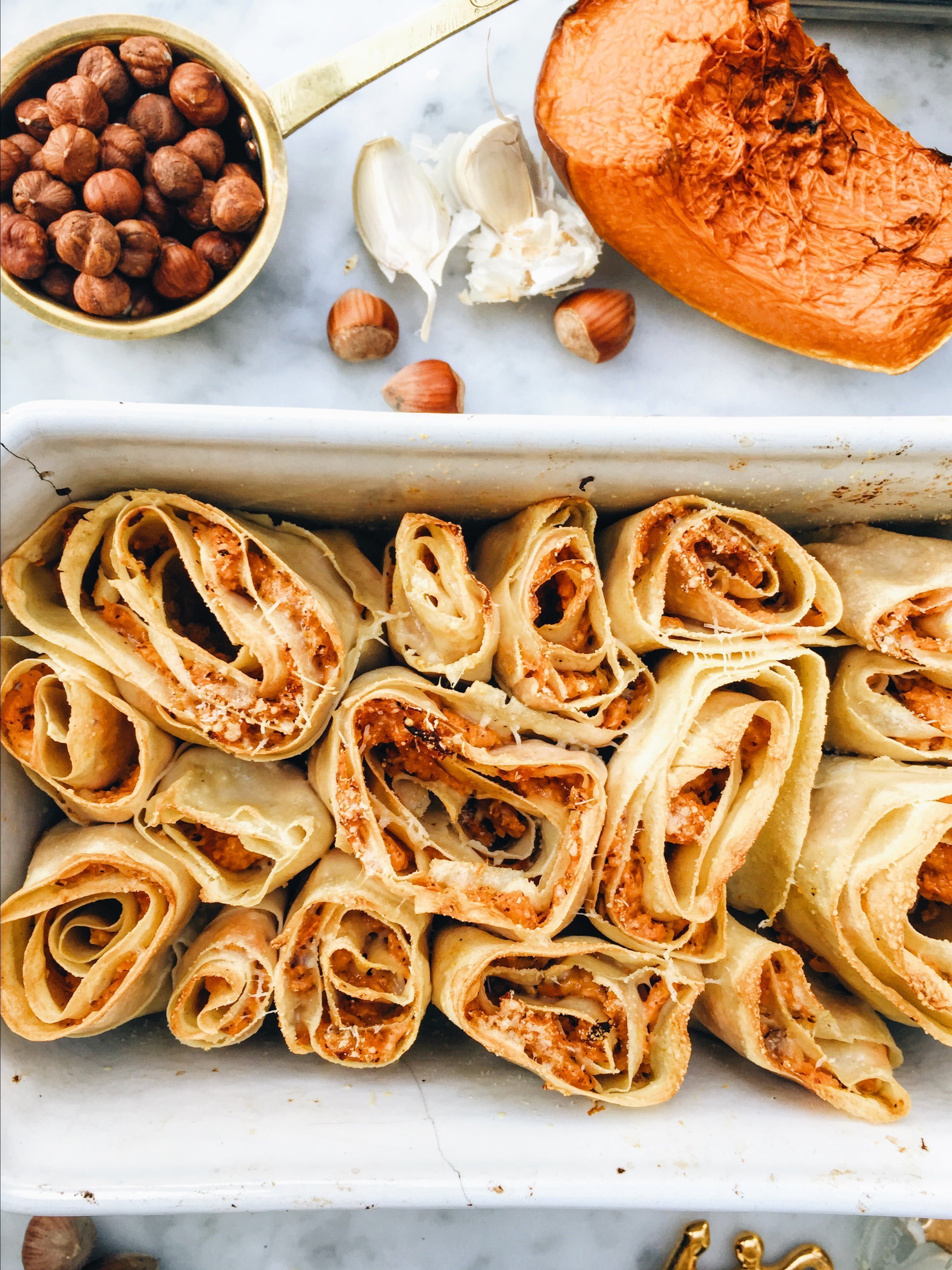 Ingredients 6-8 SERVINGS
for the pasta
3 cups – 400 gr flour
4 eggs
1tbsp olive oil
pinch of salt
for the filling
1,5 kg of butternut and pumpkin (mix both of it or only butternut)
1,5 cup ground roasted hazelnuts
120 gr parmesan cheese
1 big garlic clove
1,5 tsp salt
1 tsp paprika
pinch cayenne pepper
pepper
Directions
1. Pre heat the oven at 400 F – 200 C and cook the pumpkin and the butternut until they get soft (40 min). Remove from the oven.
2. Make bands of pasta dough, 10 cm large and approx. 50/60 cm. (The homemade article about pasta is not online yet so you can check the
directions here
). For this recipe, the pasta dough has to be almost transparent.
3. Remove the skin from the pumpkin and the butternut. In a large bowl, smash them together and add all the ingredients.
4. Cut the pasta bands in 2 and boil (one by one) their for 2 minutes each.
5. Put a kitchen towel on your worktop and lay, one by one, the cooked pasta dough. Spread 2-3 tbsp of pumpkin filling on it and roll out the dough.
6. Cut roll in half and place them vertically in a baking plate. You can switch the sizes to make different shapes of tulips.
7. Before serving, pre-heat the pasta at 400 f – 200 C for about 20 minutes with parmesan cheese on top.
8. Enjoy <3
>>> Eating suggestions: I added balsamic crème on the pasta and I served it with a good lettuce.