All you ever wanted to know about tea : meeting with a Tea Master from SPECIAL.T
The new collaboration between SPECIAL.T and KUSMI TEA
I told you about it a few times on Instagram and after several months of research, roundtrip and coding, I am really happy to introduce you to my new website. It has been a long time that I have been thinking about it, the old version did not fit me anymore and I even became frustrated to publish articles on it.
It made me realize that a website is a portfolio that you must be proud of. It helps me trust my work and my creativity. I decided to put A La French Food on hold for a few months, the time to focus on my studies, to quit my job and work on a website that I would correspond to my universe.
For this first article, I wanted to talk about tea but not just any kind of tea. I was invited by SPECIAL.T for their new collaboration with KUSMI TEA and the launch of four new capsules in Lausanne. KUSMI TEA is THE major tea brand in France with its good-looking packaging and tea quality.
La gamme de thés lancée par SPECIAL.T en collaboration avec KUSMI TEA

La fabuleuse gamme SPECIAL.T avec les thés de la maison KUMSI TEA
There is a big love story between tea and me: a day without it is like a day without breakfast or a winter without snowboarding, it is unthinkable.
I am usually rather old school: just a bag of good tea and an iron cast teapot is enough for me. However, I must say that having a machine is pretty luxurious, especially in terms of quality of the tea.
If like me and 99% of the population, you randomly dose the quantity of tea, boil your water and you (always) forget the tea infusing in your mug, then bitter teas have no secret for you.
But there is no place for imperfection with SPECIAL.T's machine and you will always taste the true taste of tea.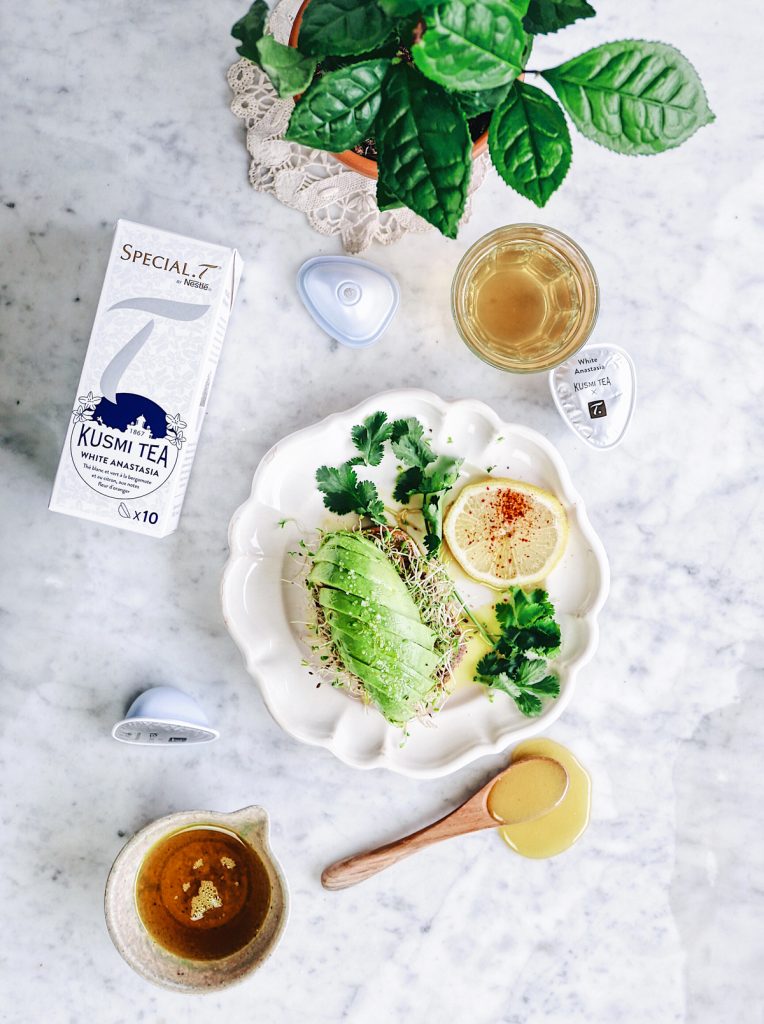 How to prepare a perfect tea?
First of all, you need to start with the right base and a good tea : whole leaves are the best criteria. Then, you need to adjust the right quantity: 2 grams (not more) for 10 to 15 cl of water is recommended.
Also very important, the water needs to be at the right temperature: this is what helps the aromas develop and avoids the bitterness from the leaves. Finally, the last thing to do is to stop the infusion time at « the nearest second » to get the perfect aroma.
Each tea should be treated differently to extract the full potential of their aromas and SPECIAL.T really respects these four essentials: A good quality of tea, the right quantity, the right temperature and infusion time. SPECIAL.T only uses the buds to have the best quality you can possibly get and to give you an idea, the buds represent 1% of the world culture only. Then the machine is set to have the right brew with a perfectly tempered water.

Discover the 4 new flavors from SPECIAL.T
Back to the four new flavors launched by SPECIAL.T. All the KUSMI Tea fans will be delighted because this collaboration concerns the classics of the brand. If you don't know which flavor to choose, here's a little help :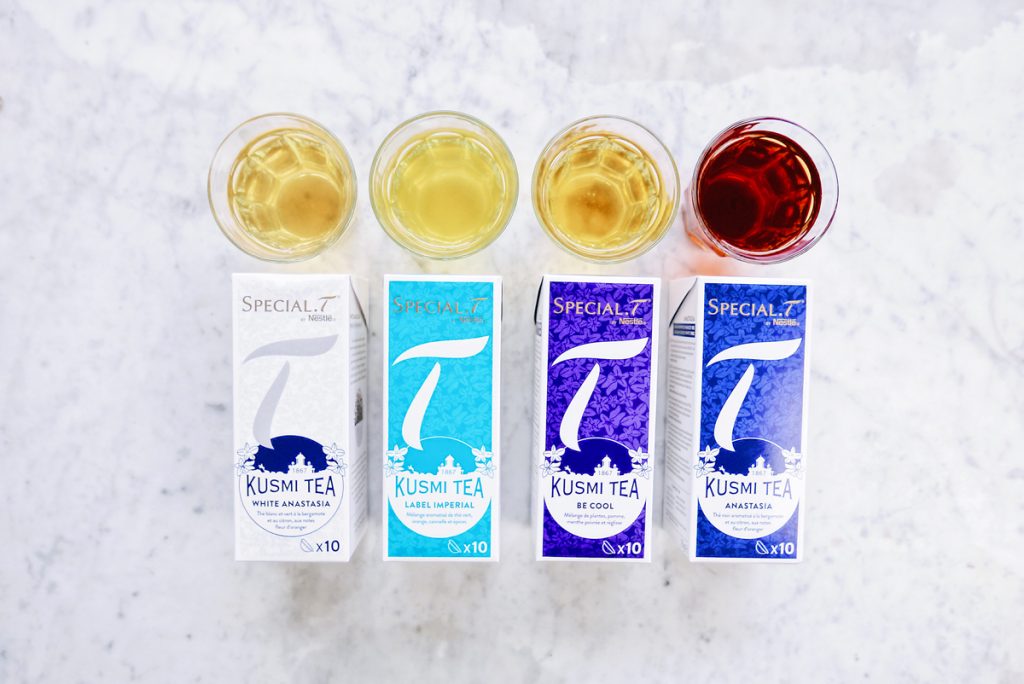 – You're more a green tea and fruit person ? The "Imperial Label" is made for you. I liked the combination of orange and green tea, you can also feel cinnamon and a touch of vanilla.
– A bit more delicate? Let me introduce you with my favorite : The "White Anastasia" with a touch of orange blossom that will makes you travel to Morocco.
– If you like herbal teas for your Netflix evenings, the "Be Cool" is what you need. I am a big consumer of herbal tea and this version is the perfect balance when I don't have time to make a real decoction. With liquorice and peppermint, it is the perfect natural treatment against cold snaps.
– If you have trouble getting out of bed and you are a morning tea addict then, the "Anastasia" is the one you need. It is the historic Earl Gray with bergamot.
We had the opportunity to meet Magali, THE Tea Master, who is behind all the new flavors and aromas. She invents new recipes and plays with aromas like no other. It was crazy to meet someone so knowledgeable so I took advantage of this opportunity to learn all the about these mysterious leaves.
Do you know where the different tea colors come from?
No, you do not have a green tea tree and a white tea tree. The color of the tea comes from the oxidation level of the leaves due to the oxygen in the air. Ones the leaves are harvested they start to oxidize and that is when everything starts.
Green tea is created by drying the leaves in an oven with a specific atmosphere for the leaves not to oxidize.
For white tea, we use lightly oxidized buds to extract specific aromas.
Black tea is the most common and cheapest type of tea. It is also the most oxidized leaves, so the easiest to produce. It is with the type of tea and the variety called Assam that we prepare chai for example.
Une note de popcorn, un fond en fleur, bienvenue dans l'univers Japonisant de SPECIAL.T

La mise en place par SPECIAL.T au salon Habitat et Jardin à Lausanne
Do you know blue tea?
It is crazy! The color of its leaves are green-blue. It is prepared with a variety called Oolong and it is a mix between white and black tea.
Why do we dry the leaves?
Drying the leaves allow the tea to develop different aromas depending on the sort of wood used by the teahouses.
What is food pairing?
Just like wine pairing, you can associate tea according to your meals. Magali made us taste different recipes with the tea that matched best. As I do not drink wine, I thought that is was a great alternative and a great discovery for the guests. What do you think?
I will not talk about the fabulous nutritional qualities of this plant because it would deserve an entire article to itself. If I only had one thing to say, it is that drinking tea can only be good for you. Pregnant women should however be careful because tea lowers the body absorption of iron – and iron is indispensable to oxygenate the fetus. So, future mothers, enjoy one or two cups of tea per day but no more. J

Have a good day

Anouck