The best detox recipe in 20 minutes
The super easy recipe of pan-fried cabbage
I am back from Biarritz and I feel cheered up from my stay by the ocean! I want to write many articles for me to get used to this new website and find the perfect format for my articles. Thankfully, I recently followed a WordPress class at Ecole-club Migros, which is now very useful. The classes were 4 hours long, once a week and over a period of 4-5 weeks. We discovered the all aspects of creation and optimization of a website. Funny story, I then realized that I would never have time or patience to create my own personalized website. However, I am now able to update and make a few changes with confidence. For those who would be interested by this WordPress class given by Ecole-club Migros: here is the link.
Let us come back to the recipe. I am telling you, this one is delicious and everyone will want to know the recipe. First because cabbage is delicious and second because it is a great vegetable for your health. Did you know that cabbage helps drain your body naturally ?
I have always loved cabbage; it is a relatively cheap vegetable, even bio, that we can cook in many different ways. You first need to get used to this vegetable but with this recipe, cabbage will have no secret for you anymore.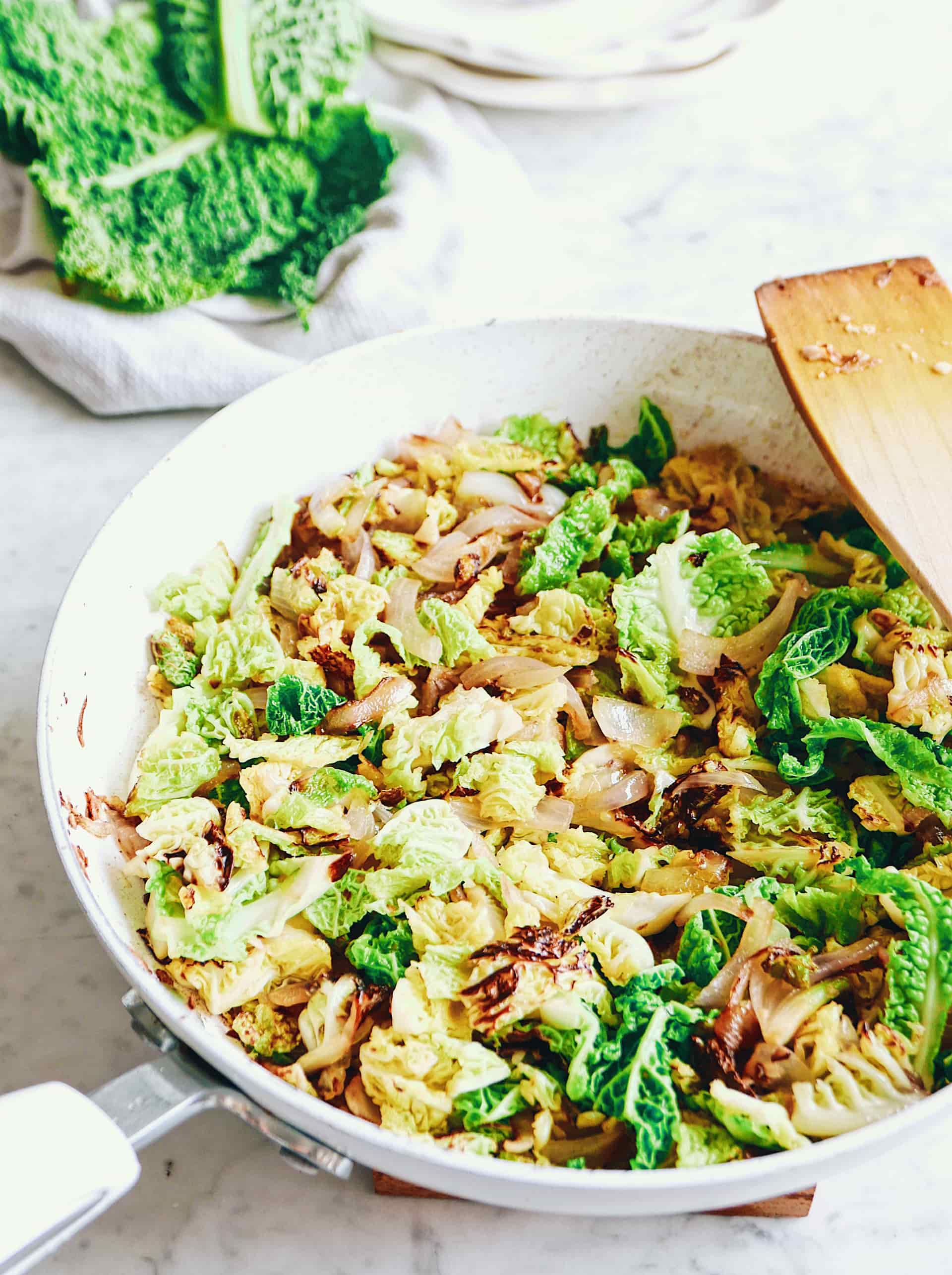 How to do a detox?
When we say detox, we actually mean drain your liver and help it get rid of what accumulates in our body (hormones, toxins, heavy metals…). We have thousands of things that we need to evacuate in order to stay healthy.
As said earlier, the liver is in charge of draining our body and it needs sulphur compounds in order to work properly. And, as you are now expecting, we find these compounds in cabbage and the amaryllidaceae family (onions, chives, leeks, garlic…). By adding garlic and onion confit to the cabbage, this recipe can only make you feel better.
Why do I not digest cabbage well?
I often hear people complaining about not digesting well cabbage. But in fact, most of the time, cabbage is not guilty. If you eat choucroute for example, the problem comes from the quantity of meat served with this dish.
If you really are sensitive to cabbage, there are two options:
Your intestinal flora do not have enough good bacteria to digest correctly vegetables (swelling, stomachache…). Start you detox slowly by increasing the dose of vegetable progressively.
Your liver is finally receiving the sulphur compounds that it needs and it is the sign that it is working like in your twenties.
The fact that your body is reacting is actually a good sign. You just need to learn how to read your body properly.
How to avoid having bad breath after eating garlic?
You just need to take out the heart of the garlic : Cut it in half and delicately take out the center part of the garlic. You will know what I mean when you see it.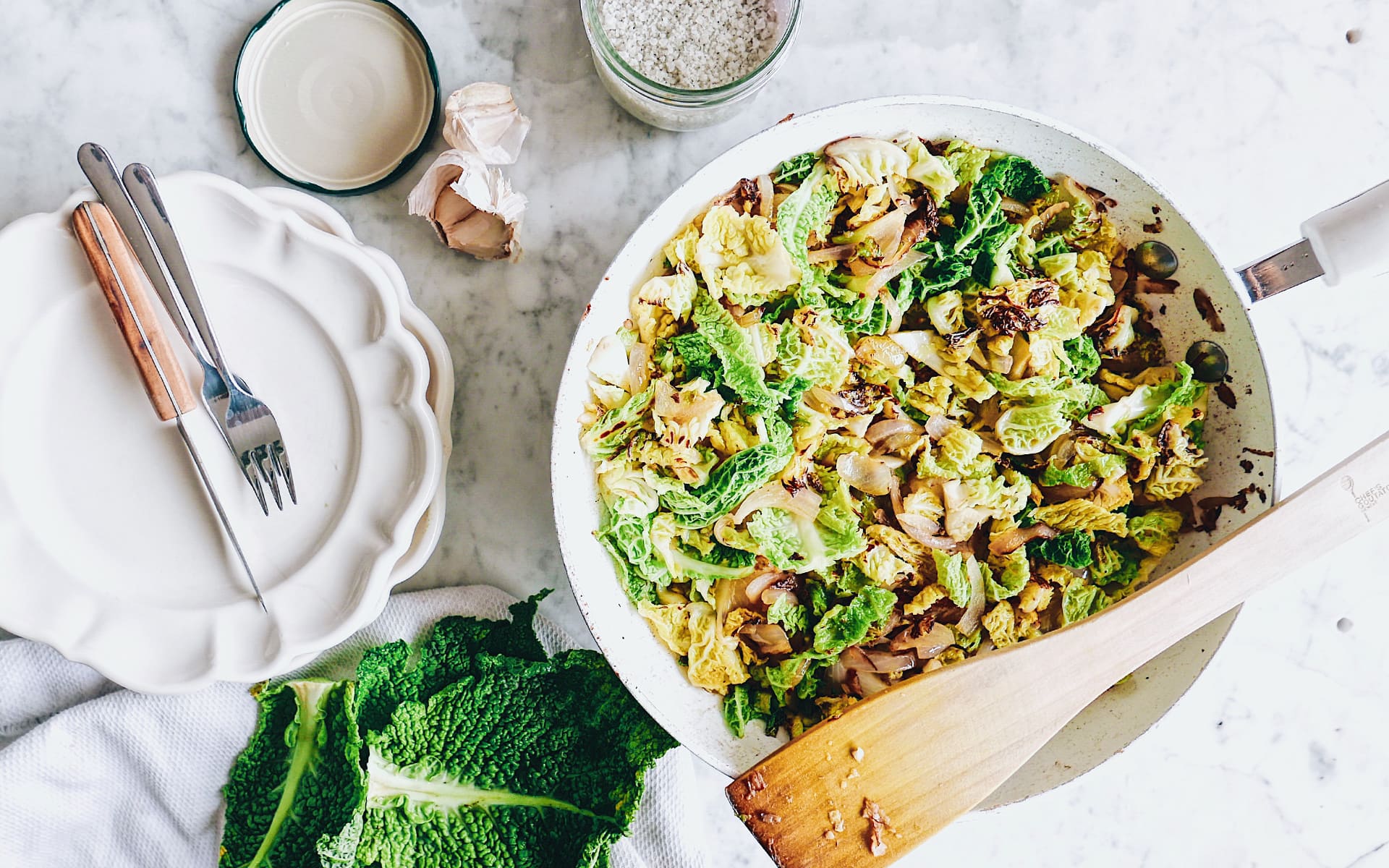 1 small green curly cabbage
1 big yellow onion
3 garlic cloves
5 tbsp of olive oil
3 pinches of salt and pepper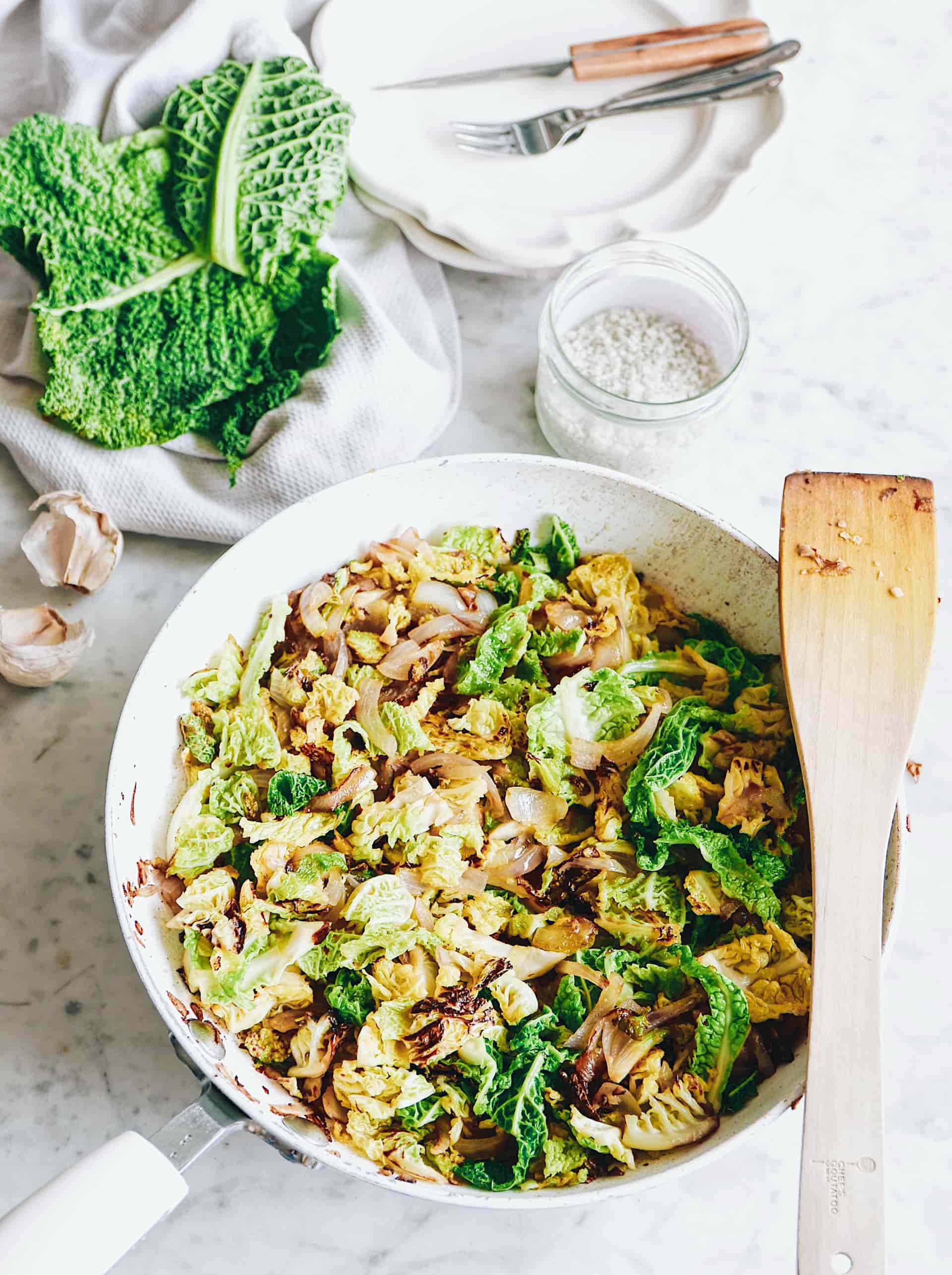 Étape 1

Slice your onions, in a pan add the olive oil a high heat. Add the onions when the pan is hot.

Étape 2

Lower the heat and while your onions are cooking, cut your cabbage into thin slices. When the onions are transparent, throw the cabbage in the pan.

Étape 3

Stir to soak the cabbage with oil. Cook for 5 minutes, add the sliced garlic cloves.

Etape 4

Increase the heat over high heat and cook for 15 minutes. The cabbage will gradually reduce (of good half of it) and gets brownish. Stir from time to time so that your preparation won't stuck on the bottom. Season with salt and pepper.

Your dish is ready when the cabbage is cooked but still crispy.

Enjoy !