Fennel, beet and orange regenerative salad
This fennel salad is a bomb and I though it was a perfect dish to share for Christmas. It was inspired by the father of one of my really good friend who's is originally from Spain. He's an incredible cook, fish and meat cooking technics have no secret for him! Spanish cuisine uses a lot fresh oranges in their dishes, such an association can be surprising but in fact, it's just delicious. In this salad, it gives a mild taste contrasted with the coriander and the roundness of the olives. It is just a killer.
Composed with winter vegetables, its colours will bright up your Christmas meal. Well, to be honest I wanted this post to be shared before Christmas but I am not really good with deadlines… Because this salad is fresh it will still be a perfect match with the 50 pounds of food you ate last night 🙂
This salad is only composed with power food ingredients: Oranges as full of vitamine C, fennel is antioxidant and reduces hypertension and the beet is good for your skin and can suposely prevent you agains't a few types of cancers.
To be honest with you, this salad was made and eaten before Christmas but all my friends loved it. Even one of them who hated every single vegetables that were in it was stocked on it.
Still need another point to cook it?! 🙂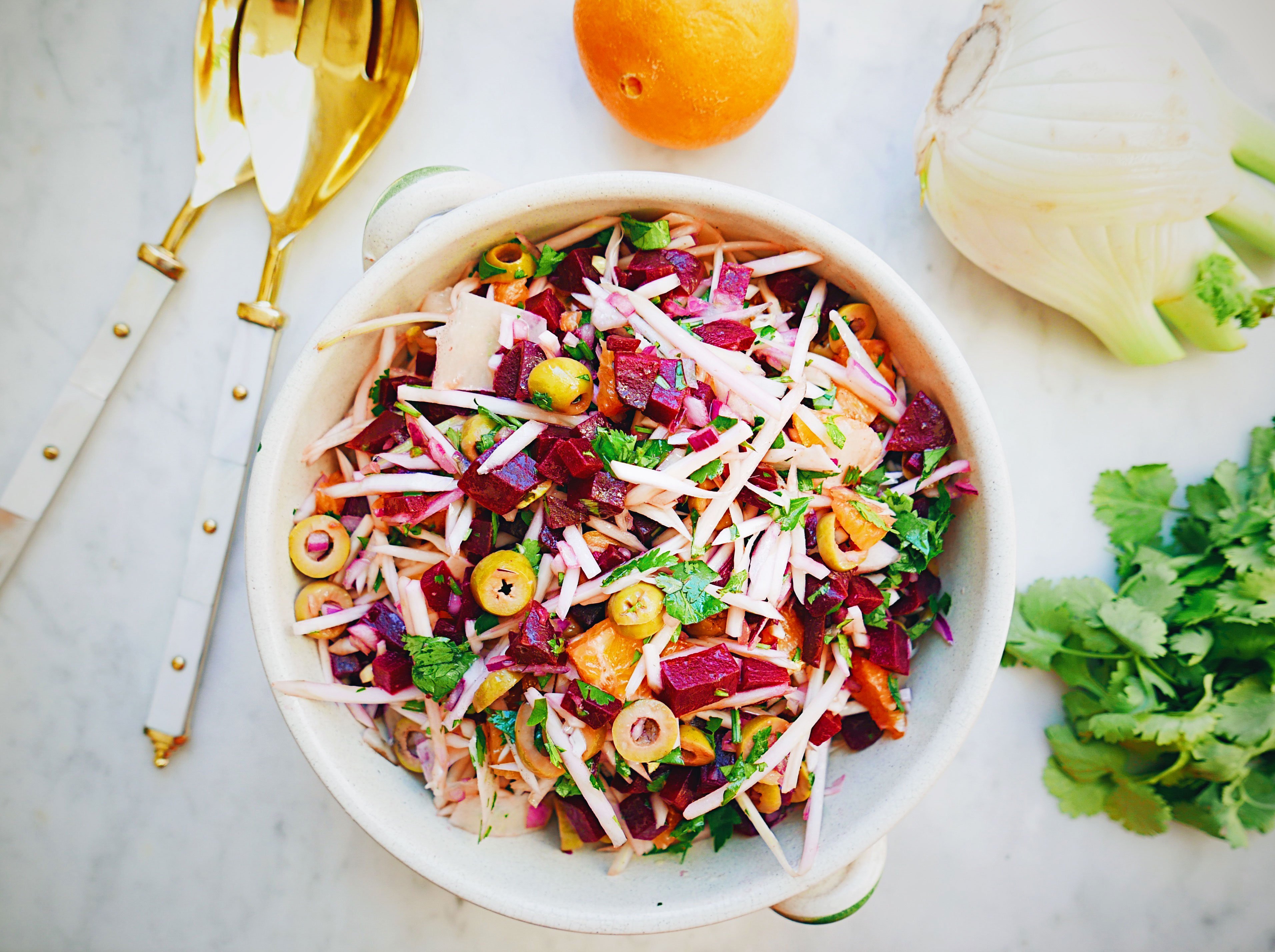 Ingredients (4 servings)
1 fennel, sliced
3 small beets, diced
2 oranges, diced
2 hands of cilantro, chopped
160 gr of green olives, sliced
1 hand of sliced parmesan cheese
Olive oil
Apple cider vinegar
Salt and pepper
Directions
Add all the ingredients together and toss with the seasoning.
Enjoy 🙂