French style vanilla dulce de leche banana pie
Preparation: 1h30 – Easy – $
I always have bananas in my fruit basket, it's the best fruit for my workout session. One banana before exercising will keep your stomach light and you'll be on point to hold the all training. Unfortunately, there's always a couple bananas that will turn bad and I wanted to create another recipe than the classic (yet very good) banana bread! This is how I came out with this banana pie recipe and its dulce de leche sauce. Just magical !
"Tatin" pies are more gourmands
This recipe is an experimentation of using bananas in desserts. I am fascinated about its texture and strong taste and combining bananas with a good caramel was something I always wanted to try out. That's how this pie "Tatin" came out.
The pie "Tatin" is a french style pie
where you cook your pie upside down in order to caramelise the top of your pie. It is gourmand and easy to make. I remember as a kid not being a hudge fan of pie but the pie "Tatin" was another story, I would love it!
"Dulce de leche caramel"
You can easily make your own caramel with a can of sweet condensed milk. It's creamier and you don't need to add extra ingredients, which is perfect for lazy people like me!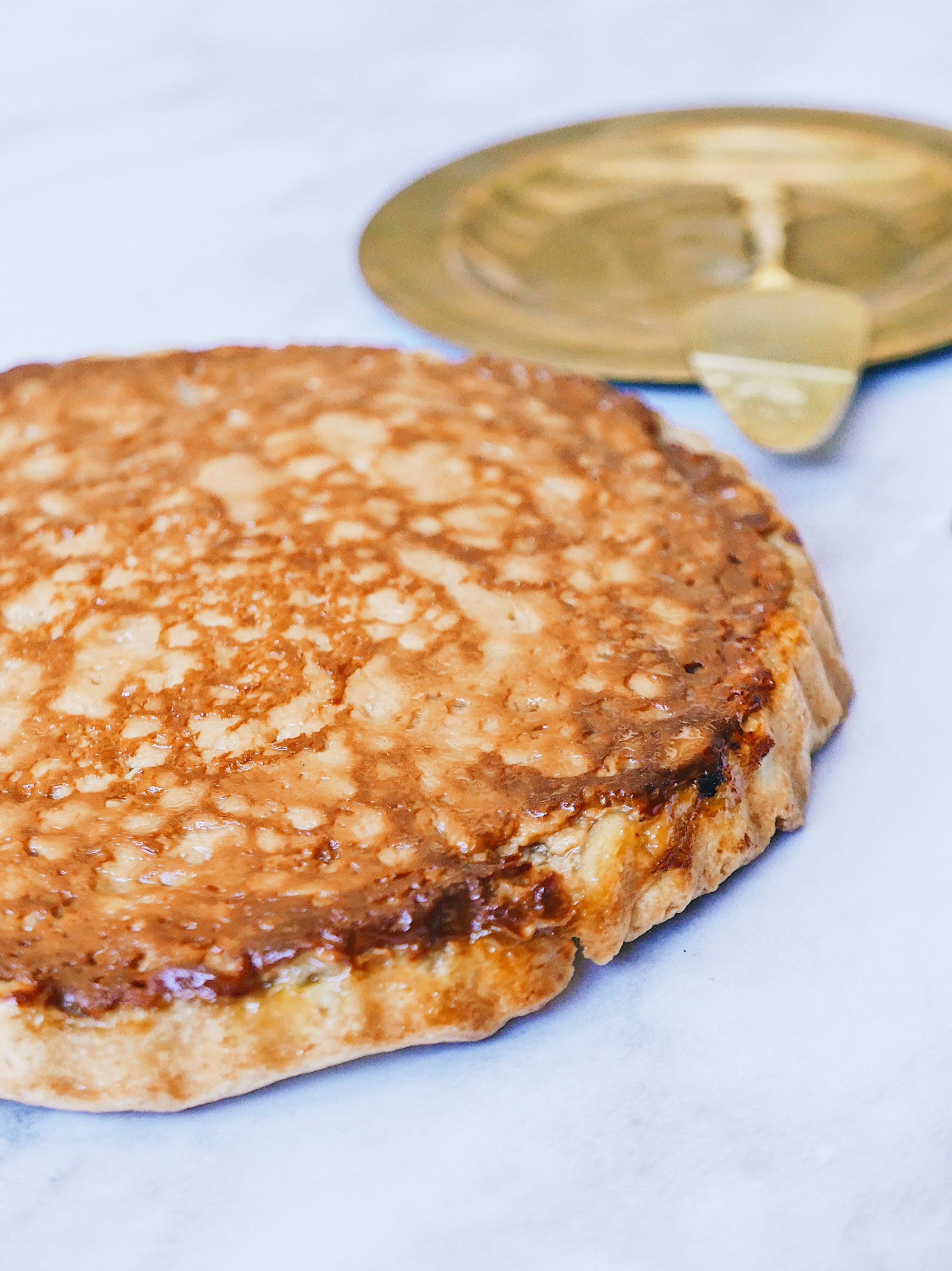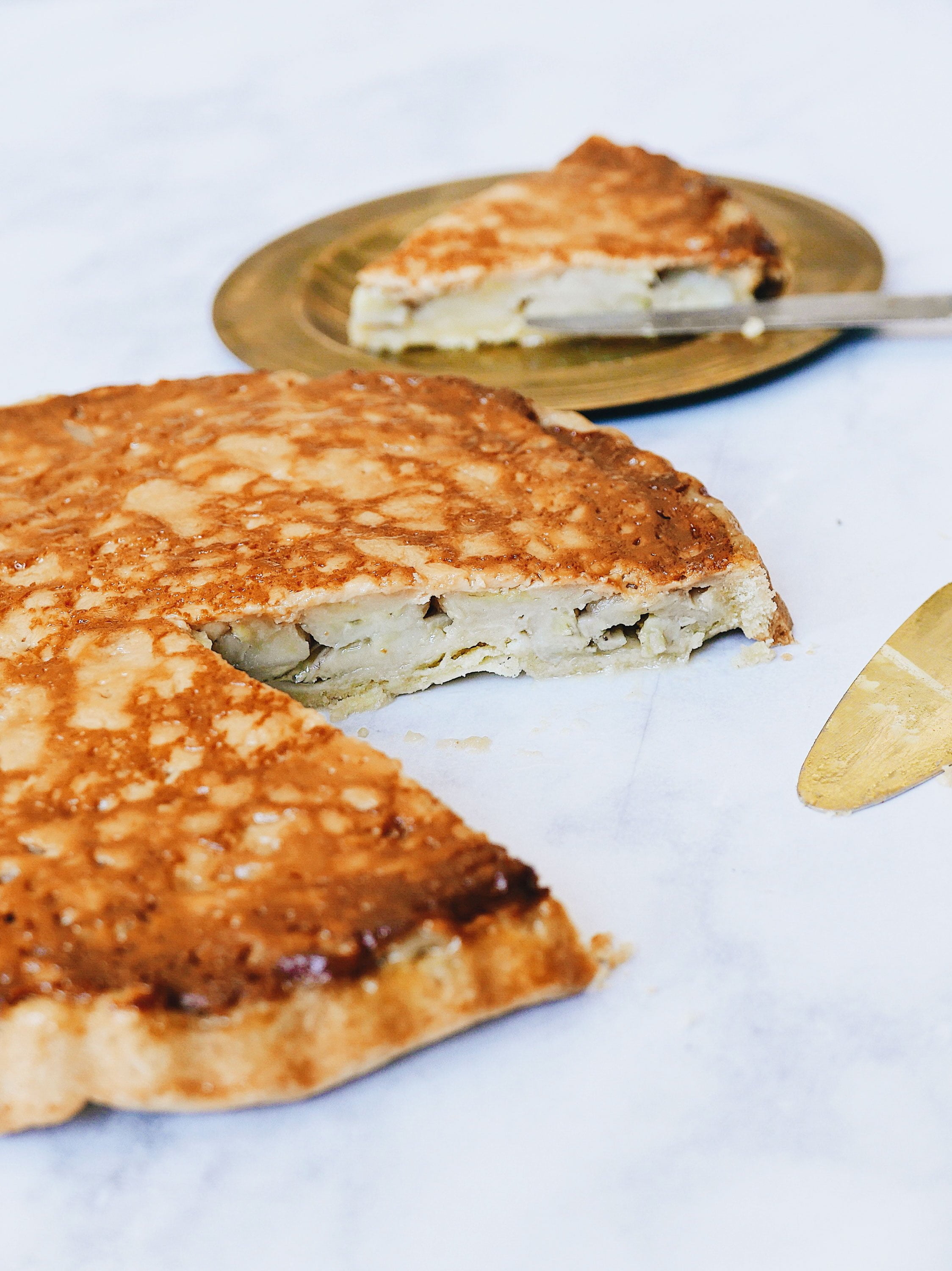 Ingredients
1 can of sweet condemned milk (400 gr.)
6 bananas
15 ml of vanilla infused rhum (or add vanilla flavour to your rhum)
Dough (you can also buy it pre made)
250 gr. flour (T45 or 55)
140 butter
70 gr sugar
45 ml cold water
1 yellow egg
Directions
1. Make your dough by combining all the ingredients in the food processor and mix for about a minute, until you have a ball. (see the tips bellow)
2. Make the dulce de leche caramel: On medium heat, poor it in an heavy saucepan and when the liquid start "bubbling", start stirring.
3. Preheat your oven at 180 °C (350 FN) Never stop stirring till your caramel gets darker and thicker: About 6-8 minutes. When you get the right constancy, add the rhum.
4. Slice the bananas lengthwise and dress the pie:
5. Poor all the caramel on the bottom of the mould, then add all the bananas. Finish by lining the dough on top of it.
6. Cook for 40 minutes. It's ready!
7. You can serve it right away. All you have to do is to poor your pie upside down in a pie plate. You can also eat it later, if so, just warm up your pie for 10 minutes before pouring it upside down in your plate.
>>You want your crust to be crunch and dry. That's why I always turn it upside down last minute.
>>Crust tip:
– Do not over blend your dough, stoping mixing as soon as you have a ball. The butter can't warm up if you want the perfect crust consistance.
-As soon as you have your ball, spread it right away to fit in your mould, film it and set it aside in the fridge for an hour at least. You can also prepare it the day before.