Purple baked sweet potato toast & roasted cabbage
Preparation: 35 min – Intermediate – $$
"Cabbage is the only vegetable where you spend more calories digesting it than its calories itself"
Every dishes has its story! I love savoy cabbage, it's super cheap and so good, but you need to know how to prepare it if you don't want it too crunchy. One of the solution is to overcook it and blend it in a soup: Easy, yummy, healthy! For this recipe, I wanted to go simple and associate it with purple sweet potatoes in a soup. Yeah, I was a bit lazy that night!
A chitchat later with my close girl friend in Nicaragua, she admitted being bit skeptical on this soup combo but also said that "no matter what, I'm sure it's going to be tasty!" Well, I wasn't sure either and it's good to have your friends feedback because their opinions can approve or not your way of creating a dish.
"The good thing about this recipe is that you'll learn a way to cook a perfect cabbage"
That evening, I left for a running session which allowed me to wander on various subjects. It suddenly came up on my mind: I would bake the potatoes and use them as a gluten free toast combined with roasted savoy cabbage and "tomme blanche".
"White tomme" is a typical cheese which comes from the Alps in Haute-Savoie (
and basically looks like this
). It has a mild taste and it's pretty diet for a cheese! You usually eat it with potatoes doughnut and green salad. So delicious!
I would also cook the cabbage aside to get the perfect consistance. You'll see here the perfect way to cook cabbage in order to get the right consistency and colour!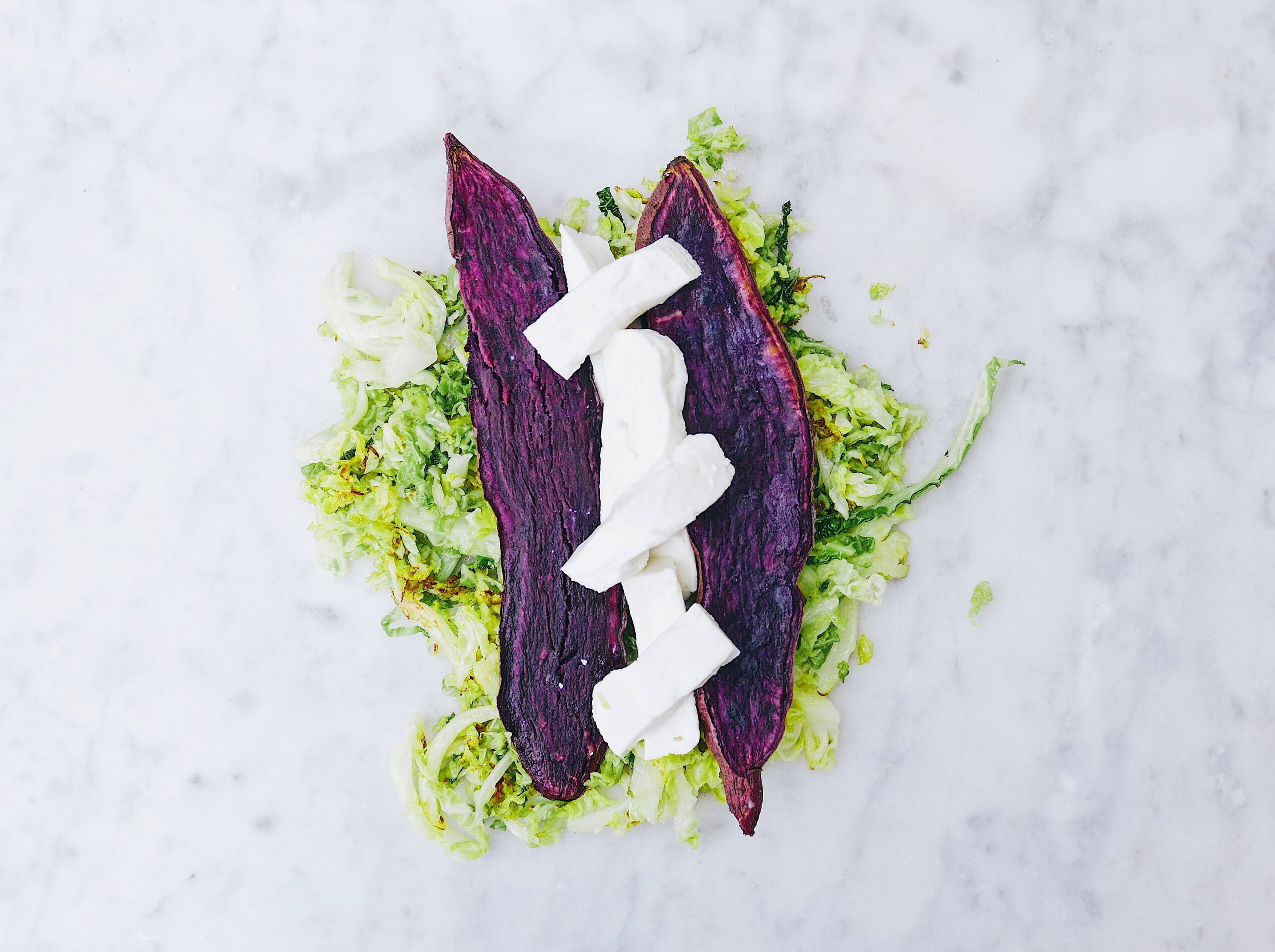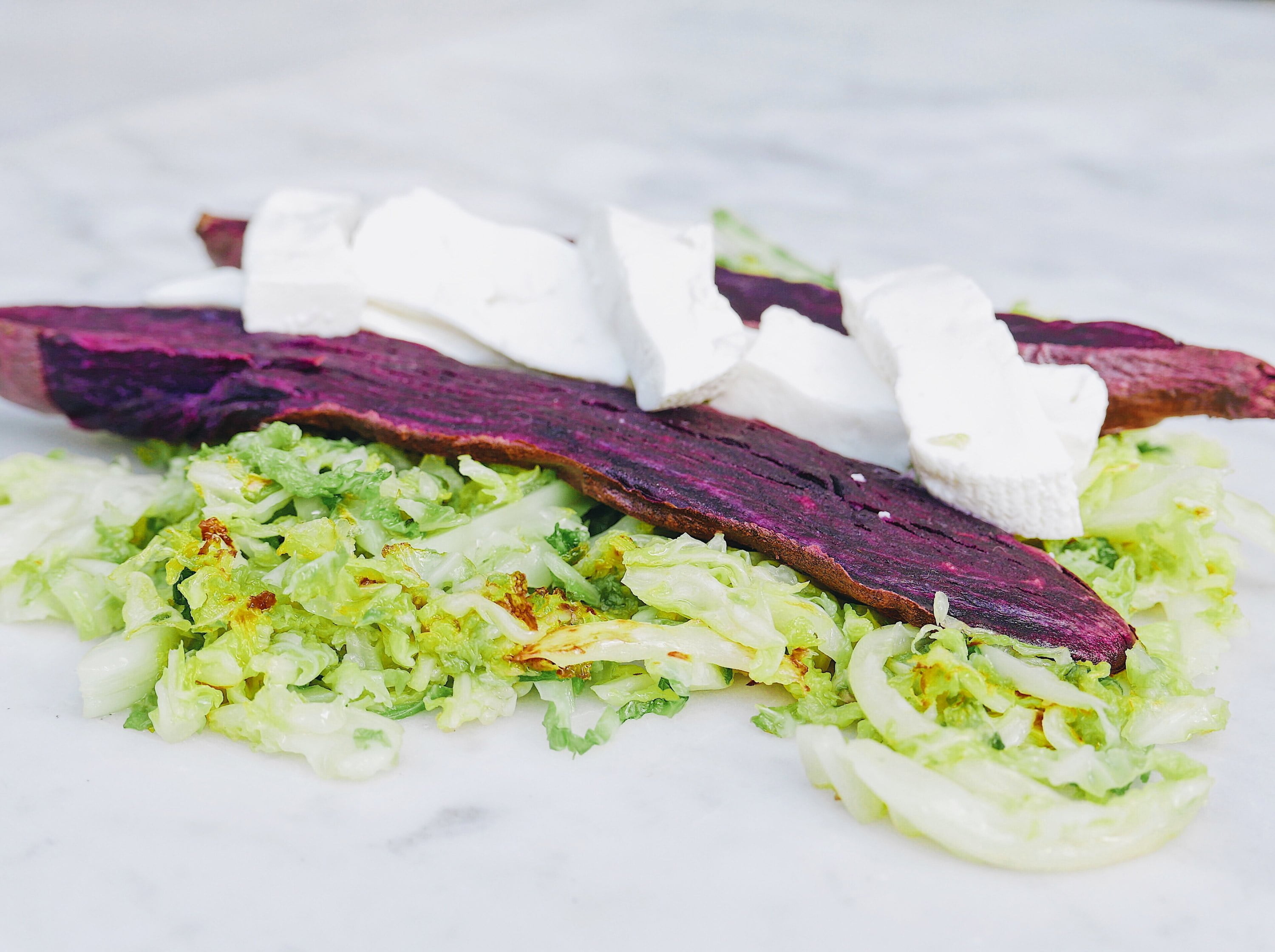 Ingredients
2 Purple sweet potatoes (sliced)
1/4 Savoy cabbage (finely sliced)
1 "Tomme blanche" (You can use fresh cheese or ricotta as substitution, count about 1,3 pounds)
3 garlic cloves
A pinch of baking soda
Olive oil
Salt
Directions
1. Preheat the oven at 200°C – 390 F, apply to olive with a brush on the top side of the potatoes, add salt and cook in the over for 20 minutes.
2. Cook the cabbage in boiling water for 2 minutes not more!!)
3. A a large bowl, add cold water with the baking soda
4. To stop the cooking plonge the cabbage in the bowl of cold water. The baking soda will keep the crunchiness and the bright green colour of the cabbage! Yes, it's magical!! Set aside for 2 minutes or so.
5. In a large pan, add a bit of olive oil, the chopped garlic and cook for about one minute. Then add the cabbage. Turn the fire on a hight heat and fry the preparation until it gets brownish. About 8-10 minutes!
>> You now know how to cook a perfect savoy cabbage: Just boil it for 2 minutes before cooking it "for real" in a pan!
6. Slice the cheese and arrange the plate. One layer of potatoes, one of cabbage and top with the cheese!
>> Add a bit of pepper on the cheese, it will even taste better
Lot's of love,
Anouck